About Your shoot
General tips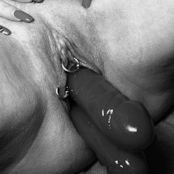 If this is your first glamour shoot, you're probably feeling nervous and excited in equal measure. Here are a few tips to help settle the nerves.
The most important tip is to choose a photographer who will make you feel comfortable and relaxed throughout your shoot. Adult shoots are all about getting up-close-and-personal with the camera while wearing your skimpiest lingerie or even less, so having a trusting relationship with your photographer is a must.
Allow plenty of time. Hot and stressed after running to get to your appointment is not a good look, trust me, and it won't help you to relax and enjoy the shoot. Bear in mind that a shoot can take several hours and you don't want to be worrying about your next appointment. Also, Since it can also take a while after the shoot for your pictures to be ready, be sure to book your session far enough ahead of Christmas, Valentine's Day, or whatever special occasion you have in mind.
Ditch the stress! Anything that causes tension will show in the photos. Unwind with a glass of wine before the shoot, you don't want to get tipsy but a glass or two to help you relax. We are happy to have music playing while we shoot so let us know your favourites or bring your own. If you have any concerns, do not hesitate to get in touch so we can try to lay them to rest.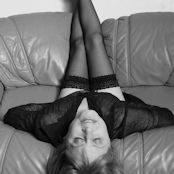 Have a party! What's even more fun than getting sexy on your own? Doing it with a few of your best friends! One of our shoots is perfect for adding a twist to your usual girls' night out. While each girl would have her own session with the photographer, making a party out of getting ready is guaranteed to make the shoot even more exciting and a whole lot less awkward. If you want to pose together, we're quite happy to accomodate that as well.
If your nerves are still getting the better of you, you're welcome bring a friend. We don't recommend they sit in and watch but knowing they are just a short distance away can help you to relax.
Before the shoot.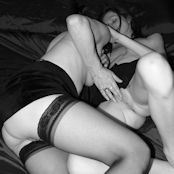 Be happy in your skin. I'm sure many photographers would agree how important this is. We don't all have bodies like a supermodel but that doesn't mean that you can't have gorgeous, sexy photos as well. The ladies we've shot range from size 8 to 18+ and are aged from their 20s to 50s and up. So what's stopping you? There are NO upper age or size limits.
Eat smart, and drink lots of water in the weeks leading up to your photo shoot. This will give you a healthy glow from the inside out. You'll look better, you'll feel better.
Practice your poses before the day. We will, of course, have suggestions about which positions and poses will showcase you at your sexiest, but it doesn't hurt to bring along a few ideas of your own. Search the web, scour magazines, and check out our sample albums to get ideas. Then practice in front of a mirror at home, so that when the time comes, you'll be ready to rock.
Clothes - What to wear and what to bring.
Before the shoot, be sure to wear loose-fitting clothes and ideally, no underwear. Tight clothes will leave marks on the skin that can take a long time to fade. Use a clear, non-chalky deodorant and if you depilate, do so a couple of days in advance to give the skin time to settle down.
Watch the hair! If you're doing your hair and makeup before the shoot (we highly recommend it... and why not?), arrive in something that can be un-done so you don't mess up your hair when taking it off.
Bring plenty of clothes, especially lingerie. Ranging from a little demure to the raunchiest you have. Don't try to play it safe either, use your shoot as an opportunity to experiment with styles or colours you wouldn't normally werar. You could maybe use your shoot as a good excuse to go out and buy some more - After all, what fun is getting sexy if you don't get to do a little shopping beforehand? Remember to pack some spare stockings or hold-ups to insure against ladders.
Pick a theme - A smart business suit, police or nurse's uniforms, doctor's coat and stethoscope - the options are limited only by your imagination. 40s pinup is back in style and is oh so sexy or wearing just your partner's shirt or favourite tie is a popular choice. Complete the look with a selection of jewellery, scarves, hats or other props.
Shoes! Don't forget to pack your sexiest shoes - You know, the ones bought just for the bedroom! Again, bring several pairs in different colours and styles to match your clothes.
A few make-up tips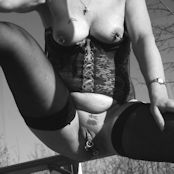 Most department store make-up counters have will have demonstrators that will give you a free make-up make-over or you can engage a professional. Be sure to let them know that it's for a photo-shoot as your make-up will need to be a bit darker than you normally wear it.
Alternatively, we can arrange a make-up artist for you if you want, see our services page for fees.
However you choose to do your make-up, here are some tips to get the best results.


A clean slate. For photography friendly makeup, it's important to start with a fresh, clean face. Cleanse, exfoliate, and moisturize your face. Follow with a primer to make sure your foundation doesn't slide off throughout the day!
Au naturel. Always apply your makeup in natural window light if at all possible. This may mean applying your makeup in a room other than your bathroom but it will gve a better indication of how it will look in the finished photographs.
No SPF! Products with sunscreen in them are an ultimate no-no when it comes to photos because they cast a ghost-like glow that can make you looked washed out. Instead, choose a foundation that is HD or claims to be great for photos. Moisturisers with sunscreen should be avoided as well.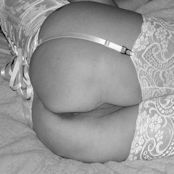 Matte is a must! One thing you don't want in your photographs is a shiny face! There are a number of ways you can avoid this. First, apply a loose, matte powder over your makeup to set it and combat shine. Second, carry oil-absorbing papers with you to soak up any excess oil throughout the day. Finally, avoid using a pressed powder, as pressed powders can give you that "washed-out" look.
Avoid minerals. Please stay away from using mineral make-up for your portraits. Mineral make-up is fantastic for everyday wear; however, in phtographs it gives a very distinct and undesirable glow or shine.
More is more! Camera flash will wash out colours so you can get away with bolder colours. Don't go too OTT, you don't want to appear clown-like but don't be scared of a dramatic finished look, it won't photograph that way.
Well matched. It's important that you make sure your foundation is an exact match to your skin tone, not only so you look natural in real life, but also so that you look natural in pictures. Even just one shade too light can make you appear pale. Go to a makeup counter and ask to have your foundation shade matched to your skin. This service is usually complimentary!
No Nude! When it comes to the lips; nude and natural looking colours can look great to the naked eye but not to the camera. Flash tends to wash out colour by a large percentage so by wearing a nude colour you're just asking to look ghostly. So instead, opt for a colour that's a little brighter or more intense than your usual shade - Try a brighter pink or hot red!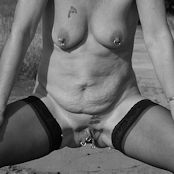 The eyes have it. Shade in your eyebrows - Your brow frames your eye and without shading, light will go straight through your brows and make them look patchy so you should always fill in your brows. Use a soft brow pencil or a brow powder, and don't aim to draw on new brows. Just follow the natural shape of your brow and fill in sparse spots.
With dramatic brows, you'll find your lashline looking a bit naked. How heavily you line your top and bottom lid will be determined by your eye shape and personal style. Wingtips or a cat-eye are always classic, but if you've never done them before it takes a lot of practice to apply symmetrically.
Wear false lashes if possible. This makes a phenomenal difference in photos and truly brings attention to a feature most of us are very comfortable with. They will make you feel glamorous, feminine and confident and that will show in the results. A good lash glue is a must!
Practice! The day of your shoot is not the time to try new make-up ideas or products. Consultations and trial runs will give you the opportunity to make any changes so you can look sensational on the day.